Spacelord - New Horrible Menace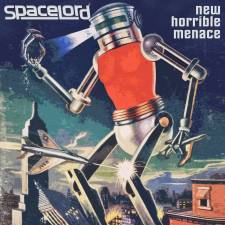 Spacelord is een heavyrockgroep uit Buffalo (New York) die dit jaar zijn eerste songmateriaal heeft uitgebracht. De drie songs tellende ep New Horrible Menace is medio dit jaar verschenen en laat invloeden van Led Zeppelin en Black Sabbath horen. De retro-seventiesrock-insteek vullen de Amerikanen aan met punk- en grunge-elementen.
De ep start uitstekend met het opzwepende Iron And Pride. De track heeft als basis een erg pakkende riff en bevat aanstekelijke zanglijnen van Ed Grabianowski. Het nummer doet qua ritme denken aan de song Spoonman van Soundgarden. Met de brug volgt er een moment waaruit blijkt dat Spacelord ook geluisterd heeft naar Alice In Chains en klinkt Grabianowski even als Layne Staley. Harbringer heeft een hoog seventiesrock-gehalte. In dit nummer klinkt Spacelord als Rival Sons, iets wat geen minpunt is. Met het rauwe The Hammer Falls manoeuvreert Spacelord zich meer naar het grunge-territorium. Het lage, ronkende gitaarwerk en het punkachtige refrein roepen herinneringen op aan (de beginperiode van) Soundgarden.
New Horrible Menace kent alleen nog een digitale versie. Dat is jammer, want de muziek in combinatie met het fraaie artwork van Lloyd Rognan lenen zich uitstekend voor een fysieke release. Spacelord komt naar eigen zeggen snel met een eerste full-length. Tot die tijd is deze introducerende ep een prima zoethouder.
Tracklist:
1. Iron And Pride
2. Harbringer
3. The Hammer Falls
Reviewer: Hugo
Toegevoegd: 5 oktober 2017