Vintersea - The Gravity Of Fall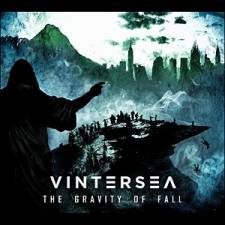 Eind december vorig jaar kondigde Asterion uit het Amerikaanse Corvallis een naamsverandering aan om verwarring met reeds bestaande Asterions te voorkomen. Vintersea werd de nieuwe naam. Op dat moment waren de opnamen voor de eerste full-length in volle gang en deze is inmiddels al een tijdje uit, maar verdient door zijn experimentele en vernieuwende karakter toch een bespreking.
De muziek bestaat uit een combinatie van verschillende stijlen. Zo wisselen trage, groovy metalcore met grunts en atmosferische, rustige passages met cleane zang elkaar af in The Host. In het wat snellere Entities zijn het melodieuze riffs met enigszins technische loopjes die de toon bepalen. Het sterke Skies Set Ablaze doet wel wat denken aan Opeth (Still Life) en Ihsahn. Opeth komt ook weer in gedachte op bij het progressieve The Gravity Of Fall, waarin de fraaie basloopjes goed te horen zijn. Crevasse, dat meer dan veertien minuten duurt, combineert zelfs atmosferische metal met Rage Against The Machine-ritmiek (People Of The Sun). Als je alles gehad denkt te hebben, komt er ook nog progrock aan bod in Mirror Lake.
Zo vliegt deze release alle kanten op. Soms zijn de gortdroge gitaarpartijen dreigend en klinkt er een contrasterende popzanglijn. Plots schakelen de Amerikanen over op een Ne Obliviscaris-achtige blastsectie overgoten met melancholische symfonieën. The Holy Procession begint zeer vredig met in reverb badend getokkel zoals Skyharbor dat doet, maar schakelt daarna kortstondig over naar Gojira-riffs. Ook zangeres Avienne vliegt alle kanten op. Ze kan zowel grunten, screamen als melodieus zingen.
Het levert een interessante luisterervaring op. Gezegd moet worden dat de stevige passages echter lijden onder de matige productie (mix en master door Evan Sammons). Het drumwerk mist op die momenten beslist kracht. Het bijna tien minuten durende The Holy Procession heeft vanwege de ingetogen productie (en songwriting) juist veel sfeer en werpt zich tijdens de eerste luisterbeurt al op als hoogtepunt. Ook daarna houden de goede ideeën en de tempowisselingen je aan de boxen gekluisterd. Vintersea heeft goed door hoe lang een spanningsboog moet duren, al heeft de plaat de eerste paar nummers even moeite om in de juiste flow te komen.
The Gravity Of Fall is een boeiend, eigenzinnig werkstuk geworden met een enorme diversiteit aan invloeden en stijlen. Dat zorgt ervoor dat je je een uur lang verwondert. Het is jammer dat de productie in de stevige passages tekortschiet. De tracks vormen een avontuurlijke plaat waar liefhebbers van Oceans Of Slumber of een combinatie van Enslaved en het recente The Agonist mee uit de voeten kunnen. Hoe dan ook, dit is een niet alledaagse, alternatieve plaat die je lang bijblijft en het beste als geheel te beluisteren is.
Tracklist:
1. Arise
2. The Host
3. Entities
4. Skies Set Ablaze
5. The Holy Procession
6. The Gravity Of Fall
7. Crevasse
8. Embers
9. Twinleaf
10. Mirror Lake
Score: 75 / 100

Reviewer: Jeffrey
Toegevoegd: 12 september 2017