Au-Dessus - End Of Chapter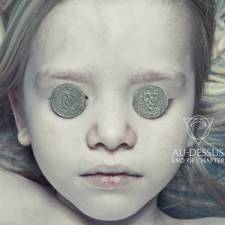 De post-blackbandjes schieten sinds het succes van met name Deafheaven nog steeds aan alle kanten uit de grond. Het is daardoor een hele opgave om het kaf van het koren te scheiden in dit overvolle genre. Een band uit Litouwen staat daardoor niet direct bovenaan mijn lijstje 'nog te checken bands', maar de zaken veranderen snel wanneer blijkt dat de betreffende groep – het uit Vilnius afkomstige Au-Dessus – onderdak heeft gevonden bij het label Les Acteurs De L'Ombre Productions. Dit label mag dan vrij kleinschalig zijn, maar de mensen die er werken, hebben onmiskenbaar een neusje voor talent (getuige prima eerdere releases van Pensées Nocturnes, Regarde Les Hommes Tomber en vooral Wildernessking).
Ook Au-Dessus blijkt tot de betere bands in het post-blackgenre te behoren. Na een eerdere ep uit 2015 is End Of Chapter het debuutalbum van dit in monnikspijen gehulde viertal. En dat blijkt een debuut waarmee het gezelschap zich in één klap op de kaart weet te zetten. Gewapend met een zwaar en drukkend geluid laat Au-Dessus in zeven titelloze 'hoofdstukken' horen wat het in zijn mars heeft. In de logge passages, die gekenmerkt worden door loodzware, stuwende riffs, is het moeilijk om niet aan het werk van Amenra te denken. Tijdens die trage momenten slaagt Au-Dessus erin om een soortgelijke 'oervibe' te creëren, mede dankzij de uitstekende performance van frontman Mantas Gurkšnys, die net zo intens het leed van de wereld uit zijn strot perst als Colin Van Eeckhout dat kan.
Toch is Au-Dessus geen sludge/doomband, ook al doet de massale sound dat soms vermoeden. Regelmatig (VII is een goed voorbeeld) is namelijk de hand van Deathspell Omega te horen. De dissonante riffs, de tempowisselingen, het beklemmende karakter en de woeste, onnavolgbare ritmes: in alles is de invloed van deze Franse, orthodoxe blackmetalmeesters terug te horen. Desondanks klinkt Au-Dessus zeker niet als een goedkope kloon. Bovendien hebben de Litouwers een aantal verrassingen in petto. Zo belanden we tijdens IX ineens in southernrocksferen, met smeuïge, 'sleazy' riffs die een ontzettend hoog Glorior Belli-gehalte hebben. Ook XI begint met dergelijke southern rock, maar vermengt dat met een flinke scheut Mgła.
Wie niet beter zou weten, zou vermoeden dat Au-Dessus wat ideeën van populaire bands aan elkaar plakt en daarmee probeert mee te liften op de kwaliteiten van anderen. Niets is echter minder waar. Hoewel de muzikale wortels duidelijk herkenbaar zijn, smeedt Au-Dessus wel degelijk zijn eigen sound uit al die invloeden. Dat blijkt wel uit de souplesse waarmee het viertal schakelt tussen logge en dreigende sludge/doom, nerveuse en opgefokte post-black en ritualistische orthodoxie. Met End Of Chapter maakt Au-Dessus duidelijk dat het een band is om rekening mee te houden. De muziek zal menigeen al tijdens de eerste luisterbeurt omverblazen, maar herbergt tegelijkertijd heel wat details. Daardoor blijft het beluisteren van dit debuut ook op de langere termijn een ervaring die zich loont.
Tracklist:
1. VI
2. VII
3. VIII
4. IX
5. X
6. XI
7. XII : End Of Chapter

Score: 84 / 100

Reviewer: Rik
Toegevoegd: 10 september 2017
Meer Au-Dessus: