Mad God - Tales Of A Sightless City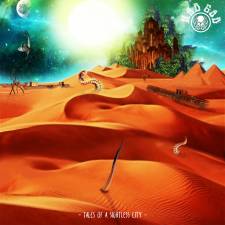 Jaarlijks ziet een ongelooflijk grote hoeveelheid nieuwe stoner-/doomplaten het daglicht. Het valt niet mee om de krenten uit de pap te halen. Mad God is zonder een noot te hebben gehoord al een interessante band. De groep komt namelijk uit Zuid-Afrika (Johannesburg om precies te zijn). Niet bepaald een veel voorkomende voedingsbodem voor dit type muziek. In 2015 brengt Mad God zijn eerste release uit, een split met plaatsgenoten Goat Throne. Dit jaar volgt de eerste full-length Tales Of A Sightless City, dat via Innsmouth Records uitgebracht is.
De line-up van Mad God bestaat uit zanger/gitarist Tim Harbour, bassist Jarred Beaton en drummer Patrick Stephansen. Muzikaal is Tales Of A Sightless City geen revolutionaire plaat. Mad God laat een combinatie van (psychedelische) doom en stoner (in de lijn van Kyuss) horen. De riffs en het spel van de ritmesectie zijn hevig geïnspireerd door Black Sabbath. Ondanks het gebrek aan originaliteit is deze plaat zeker het beluisteren waard. Tim Harbour is een degelijke zanger. In het prima Limerence zet hij zijn beste vocale prestatie neer. Zijn Ozzy Osbourne-achtige stemgeluid is vaak voorzien van effecten. In Nebula Riders pakt het vibrato-effect op zijn zang goed uit. Daar staat tegenover dat zijn stem in Green Guardian wel erg veel galm meekrijgt.
Het bijna veertien minuten durende The Cursed One And The First Flame vormt een mooi middenstuk van de plaat. Dit nummer wordt ingeleid met minimale instrumentatie en voortgezet met een flink aantal samples. De compositie wordt vervolgens op een grootse manier uitgebouwd en bevat een imponerende gitaarsolo.
Over de gehele rit gezien brengen de Zuid-Afrikanen te weinig eigen ingrediënten. De songs zijn er echter niet minder vermakelijk om. Het is positief dat Mad God ervoor kiest om zijn sound wat ruw en ongepolijst te houden. Dat geeft de plaat wat meer venijn. Wanneer de band zich wat minder blindstaart op het geluid van de geijkte bands in het stoner-/doomgenre, dan moet deze met betere composities kunnen komen. Tales Of A Sightless City is een aardig album, maar geen essentiële release in dit genre.
Tracklist:
1. Limerence
2. Green Guardian
3. The Cursed One And The First Flame
4. Nebula Riders
5. Entity Of Smoke And Blood
Score: 74 / 100

Reviewer: Hugo
Toegevoegd: 1 september 2017
Meer Mad God: