Pteroglyph - Death Of A Prince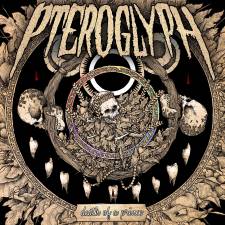 Pteroglyph bevindt zich in een druk genrestraatje. Doorgaans staat het vol producten van hoge kwaliteit. Deze laan van de moderne, progressieve metal waar nog wel eens het labeltje djent opgeplakt wordt, bevat een aantal prachtige monumenten en daaromheen wordt hevig gestreden om een plekje in het zonlicht. Het vereist meesterskunsten om op te vallen.
Helaas beschikt dit gezelschap uit Leeds hier niet over. Dat begint al bij de openingstrack die de toepasselijke titel Left Blind draagt. Een Vildhjarta-achtig, duister aandoend introotje, inclusief snare-roffels, gaat na ruim een minuut zonder aankondiging over naar iets wat normaal gesproken de brug van een song zou zijn. Ik weet niet of dit nou simpelweg een opnamefoutje is, maar het klinkt echt helemaal nergens naar. Ik geef de heren nog een kans, maar eigenlijk is het hiermee al verkeken. Uitermate teleurstellend voor een band die al ruim vijf jaar aan de weg timmert.
Ik stond nog op het punt om ze een compliment te geven voor de afwisselende vocals. Er wordt clean gezongen en met regelmaat is dit ook meerstemmig. Afwisseling is fijn. Helaas is de zang niet overal even sterk. Misschien toch maar overal blijven grunten, heren.
Ook qua productie en compositie is het niet allemaal even sterk. Nergens slecht, maar bij dit genre moet alles gewoon kloppen. En dat doet het niet. De opname is over het algeheel erg vlak, met hier en daar grote uitspringers. Het zijn vooral de digitale effecten die eruit springen; die komen het lekkerst over. En dan is het qua compositie ook nog eens niet al te sterk. Hier en daar komen de mannen nog wel met een goede riff om de proppen, maar met regelmaat zijn de overgangen zo abrupt en betwijfelenswaardig, dat er van een compositie eigenlijk geen sprake is.
Helaas, dit wordt een muffig achterafsteegje in de djent-wijk. Naar het Verdomhoekje, zouden we in Utrecht zeggen. Laten we deze plaat maar gauw vergeten.
Tracklist:
1. Left Blind
2. Unaccountable
3. Deceit Of Choice
4. Red On You
5. The Wanderer
6. Death Of A Prince
7. Komplex
8. D.O.D.
9. Heavy Casualties

Score: 45 / 100

Reviewer: Wouter
Toegevoegd: 9 juni 2017