Interview: Amorphis
Met Niclas Etelävuori
Door Edo
Geplaatst in oktober 2010

Onlangs kwam jullie eerste dvd uit. Was het uitbrengen van een dvd iets wat jullie al lange tijd wilden doen?
Jazeker, we hebben hier al een paar jaar over gepraat en nu is het eindelijk af. Ik denk dat het resultaat het lange wachten wel waard is.
Kozen jullie voor de dvd een speciale setlist of verschilde deze nauwelijks van de andere optredens tijdens die toer?
Het was ongeveer dezelfde set als de rest van de optredens tijdens de Skyforger-tour. Ik geloof dat we één nummer extra hebben gespeeld. Gewoonlijk proberen we nummers van alle albums te spelen tijdens onze shows, maar soms is het onmogelijk om alles in één set te passen.
Waarom kozen jullie voor een samenvoeging van Magic And Mayhem en Black Winter Day, Smithereens en The Smoken plus nog eens een Elegy-medley?
Het idee van die medley begon tijdens de Europese tour en werd elke avond een stukje langer. Vaak kunnen we niet alle nummers spelen die we willen en fans willen vaak veel nummers van de oudere albums horen. Door er een medley van te maken konden we toch de beste stukken van die nummers doen. De andere delen zijn instrumentaal. Dat geeft Tomi Joutsen even de tijd om te rusten.
Het optreden vond plaats in Oulu in Finland. Waarom hebben jullie ervoor gekozen om tussen de nummers door de toespraken van Tomi niet te ondertitelen?
Dat was in eerste instantie wel de bedoeling. Ik vrees dat iemand ze vergeten is.
Welke eisen hadden jullie voor deze dvd? Hebben jullie met de producer en de editor gesproken hoe jullie het wilden hebben?
De producer is Ville Lipäinen, een vriend die we al heel lang kennen. We vertrouwden op hem om er het beste van te maken. Nadat het optreden was gefilmd liet hij ons een eerste opzet zien. Wij hebben vervolgens commentaar gegeven, daar is hij weer mee aan de slag gegaan en uiteindelijk kwam daar een definitieve versie uit.
Als bonus zit er een interessante documentaire bij het concert, waarin de hele geschiedenis van de band wordt doorlopen. Waar kwam het beeldmateriaal voor deze documentaire vandaan?
In de loop der jaren hebben we veel beeldmateriaal verzameld. Dat was op zich niet zo'n probleem, maar het meeste materiaal stond nog op ouderwetse VHS-banden. Om een videorecorder te vinden die die banden af kon spelen was nog de grootste uitdaging.
Hadden jullie nog inbreng over wat jullie wel en niet in de documentaire terug wilden laten komen?
Dat hebben we overgelaten aan Map Ollilla. Hij is een journalist en een vriend van de band. Hij bedacht een hoop vragen en aan de hand daarvan is de documentaire samengesteld. Door de jaren heen krijgen we zo vaak dezelfde vragen voorgeschoteld. Ik hoop dat de documentaire daar de meeste van kan beantwoorden.
Er zal ook een set verschijnen met twee cd's en twee dvd's. Wat staat er eigenlijk op die cd's? Alleen de audio van het concert?
Inderdaad. Dat is het optreden in Oulu, maar dan alleen het geluid. Speciaal voor mensen die veel moeten rijden.
Het laatste album Skyforger is nu ruim een jaar oud. Zijn jullie inmiddels bezig met een opvolger?
Over enkele weken duiken we de studio in om de nummers op te nemen. We hebben een demo opgenomen met daarop zestien nummers. Hiervan komen de beste songs op de cd. We hebben nog geen exacte datum wanneer de cd uit zal komen, maar reken er maar op dat dat in 2011 gaat gebeuren.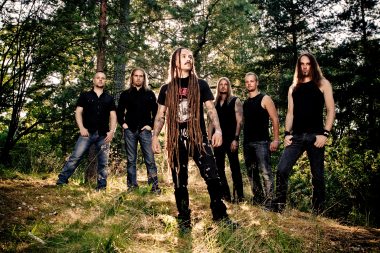 Jullie hebben ook nog een hoop oude nummers opnieuw opgenomen, en dan alleen van de eerste drie albums. Hoe leuk was het om die oude nummers opnieuw op te nemen met de apparatuur van tegenwoordig?
Dat was super, we hebben er erg van genoten. We spelen sommige nummers al jaren. Om die nu in de studio opnieuw op te nemen was erg gaaf. Het ging ook erg snel, omdat iedereen die nummers van binnen en van buiten kent. Bovendien zijn we als muzikanten erg gegroeid de laatste 20 jaar. Ik denk dat het een strak stukje death metal is wat we op Magic & Mayhem - Tales From The Early Years laten horen.
Jullie genieten er dus nog steeds van om die oude nummers te spelen. Welk effect heeft het opnemen van Magic & Mayhem op jullie ideeën voor het nieuwe album?
Het is misschien nog te vroeg om die vraag te beantwoorden. Ik denk dat het nieuwe album eerder een voortzetting zal zijn op Skyforger dan dat we teruggaan naar de stijl van het oudere werk. Ik kan je wel beloven dat er op het nieuwe album ook enkele heftige songs zullen verschijnen.